Two Side Drilling Machine
Product Detail
Product Tags
Processing position & precision: processing the flange holes at both ends of the valve body to meet the technical requirements of drawings
Material of parts: cast steel
Machine structure: This machine is a horizontal hydraulic two side-drilling machine. The left and right heads are composed of a hydraulic mobile sliding table gear box, and the middle is composed of a worktable and hydraulic fixtures. The machine uses full protection, automatic chip conveyor, water cooling, and equipped with independent electrical cabinet, hydraulic station, centralized lubrication device, etc. The workpiece is manually lifted and hydraulically clamped. See the mechanism schematic for details.
Workpiece processing standard process:
The machine is one-time positioning processing, one piece at a time, and it is required to process a reference surface as the installation positioning reference in the previous process.
The standard process is: clean the workpiece→put the workpiece to be processed into the tooling→hydraulically clamp the workpiece, two sets of work slides can be fast forwarded and attacked, and the two sets can be synchronized or processed step by step.
Retreat to the original position-hydraulic release-manual loading and unloading→enter the next cycle.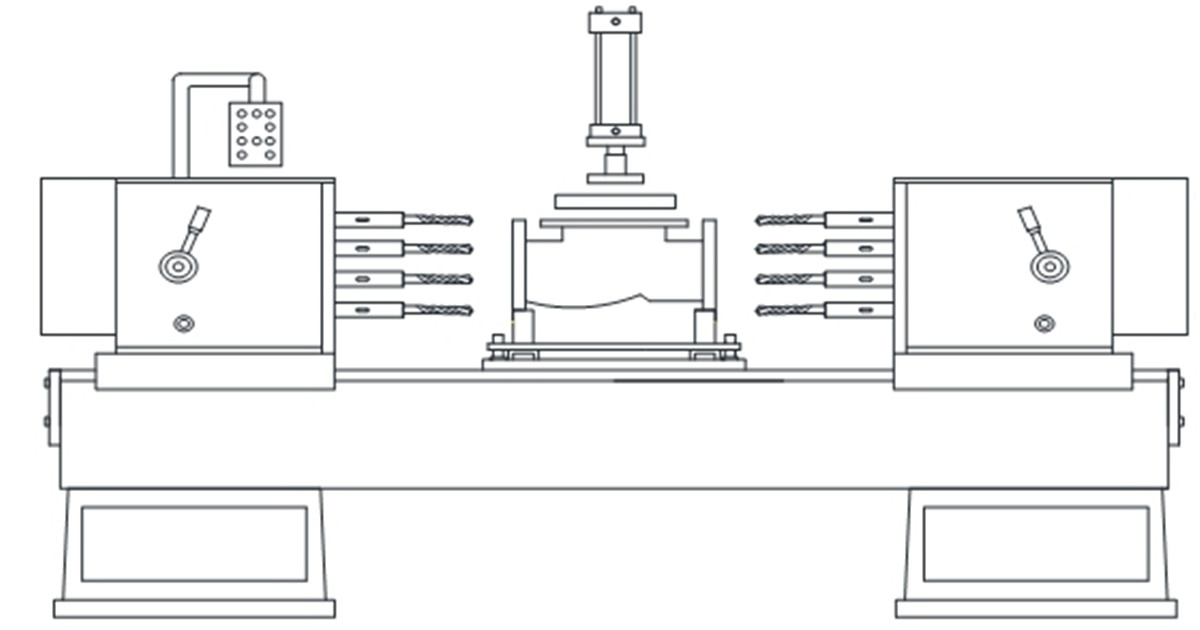 Main machine Parameters
| | |
| --- | --- |
| Model | HD-Z200BY |
| Power Supply(Voltage / frequency) | 380V/50HZ |
| Max.Axis Travel(mm) | 380 |
| Drill pipe speed(r/min) | 270  360 |
| Drill pipe installation(National standard) | Mohs NO.2 |
| Suitable Drill (mm) | 8-23 |
| Drilling hole distance error (mm) | 0.1 |
| Machining hole diameter(mm) | 60-295 |
| Min. center distance suitable for working hole(mm) | 36 |
| Tooling form | Hydraulic clamping |
|  Feed form | Hydraulic feed |
| Drilling motor power | 2×5.5KW |
| Feed speed | Stepless speed regulation |
Main features
(1)This machine worked with Huadian PLC Controller, it can work for many procedures,for example, End face hole , Median orifice, Bore-hole and Sphere, powerful function and easy operation.
(2)The Feed Sliding table guideway use high quality gray cast iron,trough rough casting, tempering and aging treatment by three times. Fully eliminate the residual internal stress, The surface of the guide way adopts super audio quenching and the hardness is up to HRC55. Through high precision guide way grinding processing, to ensure the accuracy, rigidity, stability.
(3)The transmission part adopts precision ball screw and interpolation to eliminate the gap,to ensure the machine drive steady.
(4)The power head is equipped with three - stage manual speed change with powerful motor,achieve low speed but high torque, can withstand heavy cutting load, improve processing efficiency.
(5)The working equipment adopts Hydraulic pressure-automatic clamping, to improve efficiency and reduce labor intensity.
(6)The machine adopts Centralized lubrication, to ensure that the full lubrication of each moving parts then improve the service life of machine tools.
---
Previous:
Single Side Drilling Machine
---
Write your message here and send it to us