Single Face Turning Lathe
Product Detail
Product Tags
Machine Features
This machine tool is a horizontal CNC single face milling machine. The three side heads are respectively composed of a horizontal CNC movable sliding table and a CNC boring head. The middle is composed of a hydraulic fixtures, etc., and is equipped with independent electrical cabinets, hydraulic stations, and centralized lubrication. Device, full protection, water cooling, automatic chip removal device using chip conveyor. The workpiece is manually lifted and clamped hydraulically.
Workpiece processing standard process:
A-The machine tool is one-time positioning processing, one piece at a time, requiring the previous process to process a datum surface as the installation and positioning datum.
B-The standard process is: clean the work piece--put the work piece into the tooling--hydraulically clamp the work piece, the spindle work slides are fast forward and tapped, and the one set can be processed simultaneously or step by step. The one set of slides are processed. Rewind quickly to the original position--hydraulic release--manual loading and unloading--enter the next cycle. See the mechanism schematic diagram for details.
Hydraulic pressure equipment
The hydraulic station adopts the independent Superposition valve, which is composed of a high quality electromagnetic valve, a pressure regulating valve, a throttle valve and a double vane pump. And equipped with air cooling device to ensure that the hydraulic station has normal oil temperature when it works.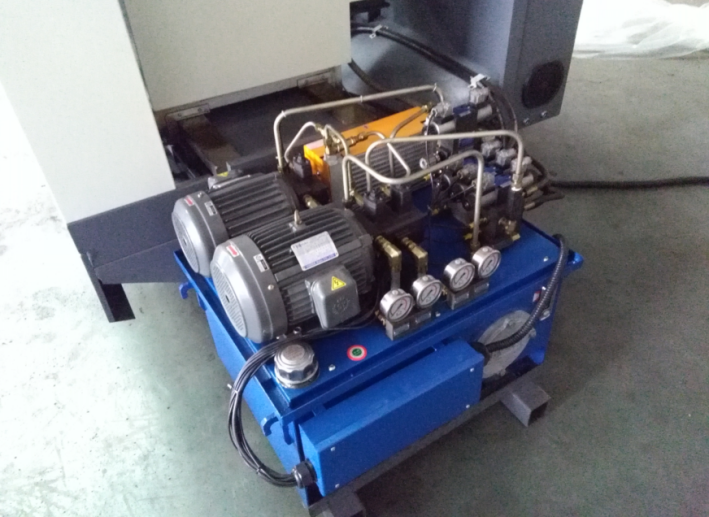 Electrical cabinet
The Electrical cabinet is independent and closed.Installed with CNC controller, Inverter and electrical components.Also set air cooling device to ensure that the electrical components of the machine work properly, no dust.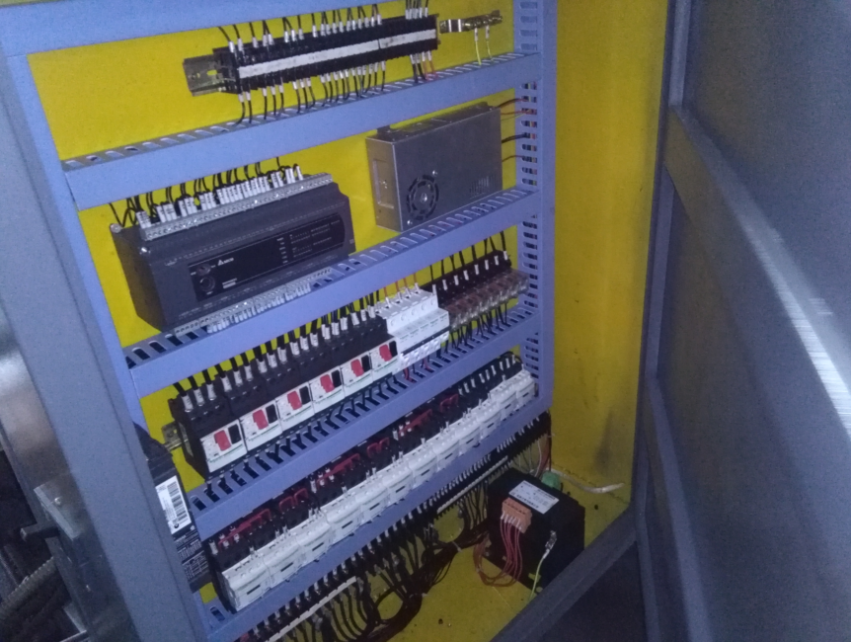 Centralized lubrication device
The Lubrication system equipped with Nanjing Beiqier progressive lubrication device,pump the lubricating oil into the moving parts regularly. Avoid tedious manual operation, improve the service life of machine tools.
Cooling chip remove device
This machine adopts heavy flow cooling, The iron chips are washed by the cooling water to flow into the chip removing device through the chip removing mouth of machine body.Chips are saved into one box to ensure the cleanliness of the machine tool and reduce the labor intensity
Huadian PLC controller
This product is a high-quality CNC device with all digital bus.It keeps abreast with overseas high-grade  PLC Controller. The operation is simple and convenient, one key operation, no complicated numerical control operation, the maximum increase efficiency, reduce production cost.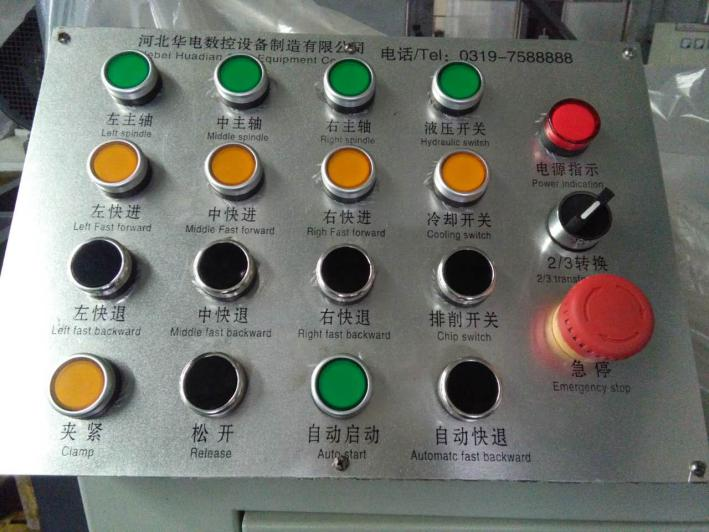 Specification
| | | |
| --- | --- | --- |
| Description | HDF-BC21-31P | HDF-BC61-31P |
| Power supply | 380AC | 380AC |
| Machine dimensions | 2000*1100*1600mm | 2600*1500*1900mm |
| CNC Controller system | GSK/China-English Verison | GSK/China-English Verison |
| Main motor power | 4 grade 5.5KW | 4 grade 7.5KW |
| Spindle speed range(r/min) | 110/140/190 stepless | 110/140/190 stepless |
| Spindle nose taper hole | 1:20 | 1:20 |
| The distance from Spindle to worktable | 505mm can be customized according to workpieces | 505mm can be customized according to workpieces |
| Z-direction feed motor | 28N·m | 28N·m |
| X-direction feed motor | 8N.m | 8N.m |
| Z-direction travel | 350mm | 350mm |
| X-direction travel | 150mm | 150mm |
| Rapid moving feed(mm/min) | X-direction:3000 Z-direction:3000 | X-direction:3000 Z-direction:3000 |
| Repeat positioning accuracy | Z direction:0.015/X direction :0.01 | Z direction:0.015/X direction :0.01 |
| Max. processing diameter | 430mm | 600mm |
| Processing time of φ150 workpiece | About 2min/pc | About 2min/pc |
---
Previous:
Valve body Automatic Machining Line
Next:
Two Face Turning Lathe
---
Send your message to us:
Write your message here and send it to us