Center Drive lathe For Coupling
Product Detail
Product Tags
Workpiece Processing Introduction
According to the customer's products drawings,We recommend the SCK205S double-end CNC lathe, which clamps the outer circle of the coupling, and processes both the end surface and the external chamfer, the inner hole and the internal chamfer, and the internal thread (offset buckle) at the same time.Adopting API standards.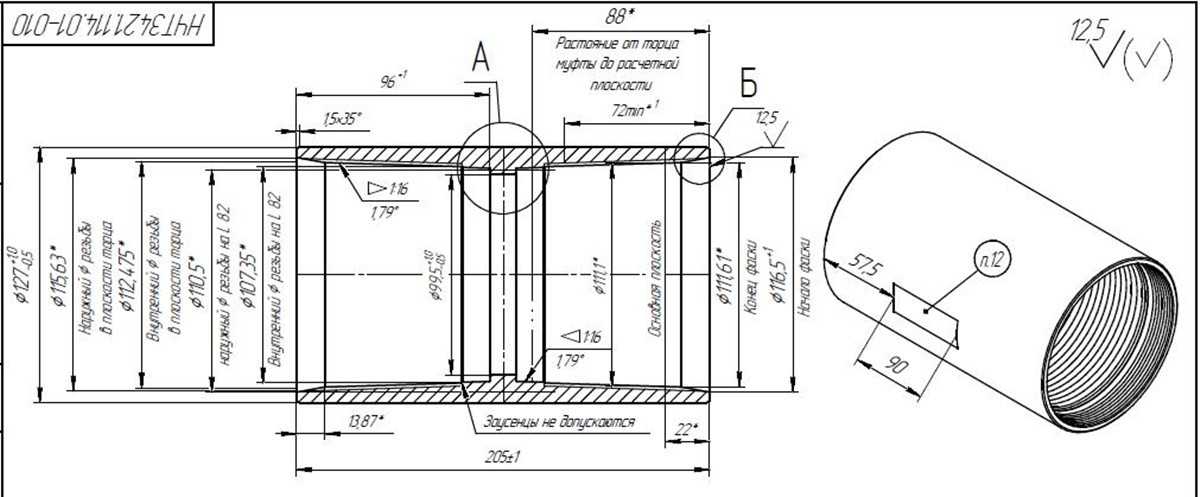 Part No.

Max.outer diameter(mm)

Length(mm)

Min.inner hole(mm)

Ladder buckle (in) (API standard)

Mark

Муфта

ОТТМ102-Д

∮114

190

∮88.6

4

 

Муфта

ОТТГ114-Д

∮127

205

∮99.5

4-1/2

 

127

∮141.3

210

∮110

5

 

140

∮153.7

218

∮130

5-1/2

 

146

∮166

218

∮139.35

5-3/4

 

168

∮187.7

225

∮151

6-5/8

 

178

∮194.5

234

∮158

7

 
Machine Feature
1.Machine structure and characteristics
■This machine adopts 450inclined bed layout, which has good rigidity and convenient chip removal.
■The headstock integrates the three components of the main shaft system, the fixture, and the clamping cylinder. The structure is compact and reliable, and the fixture is hydraulically clamped.
In order to meet the processing needs
of 4 "-7" couplings, the solution:
Maximum clamping diameter: φ200mm,
The headstock width is 190mm.
■The clamp is a collet type, and an adjustment jaw is installed on the elastic chuck with a diameter of 2mm. The processing parts are replaced. When changing the clamping diameter, only the adjustment jaw can be replaced.
■According to the processing parts, multiple boring tools are required. To avoid tool interference, the turret is customized. The rotary diameter of the cutter head is large. In order to make the turret more rigid, the center of the turret is selected to be 125mm.
Suggestion: Choose one rough and fine boring cutter for machining end face, chamfer and inner hole;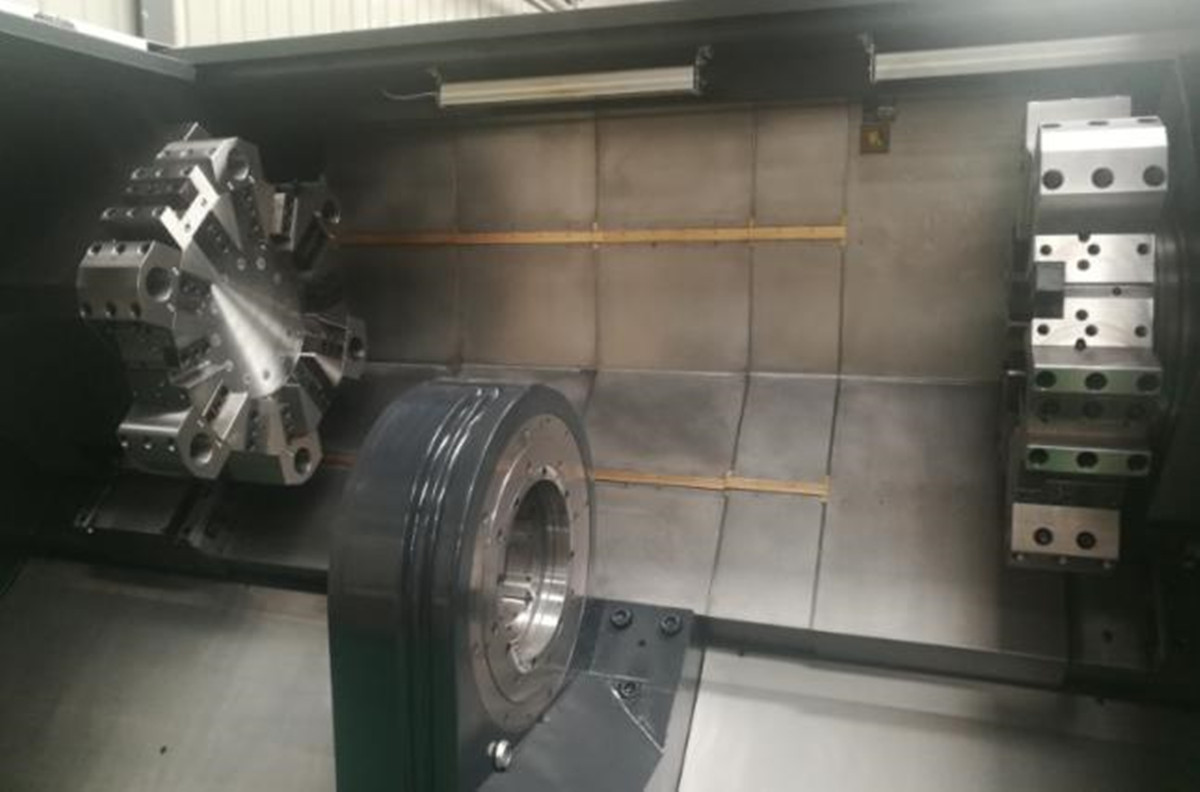 1 eccentric buckle thread cutter for thread processing.
■The machine tool is equipped with a dual-channel control system. The two tool holders can be linked with the spindle at the same time or separately to complete the simultaneous or sequential processing of both ends of the part.
■Axial positioning of workpieces using positioning posts mounted on the cutter head.
■In order to process the deflection buckle at both ends of the coupling at the same time, minimize the number of passes.
The main motor power in this case is a 18.5 / 22kW wide area servo motor.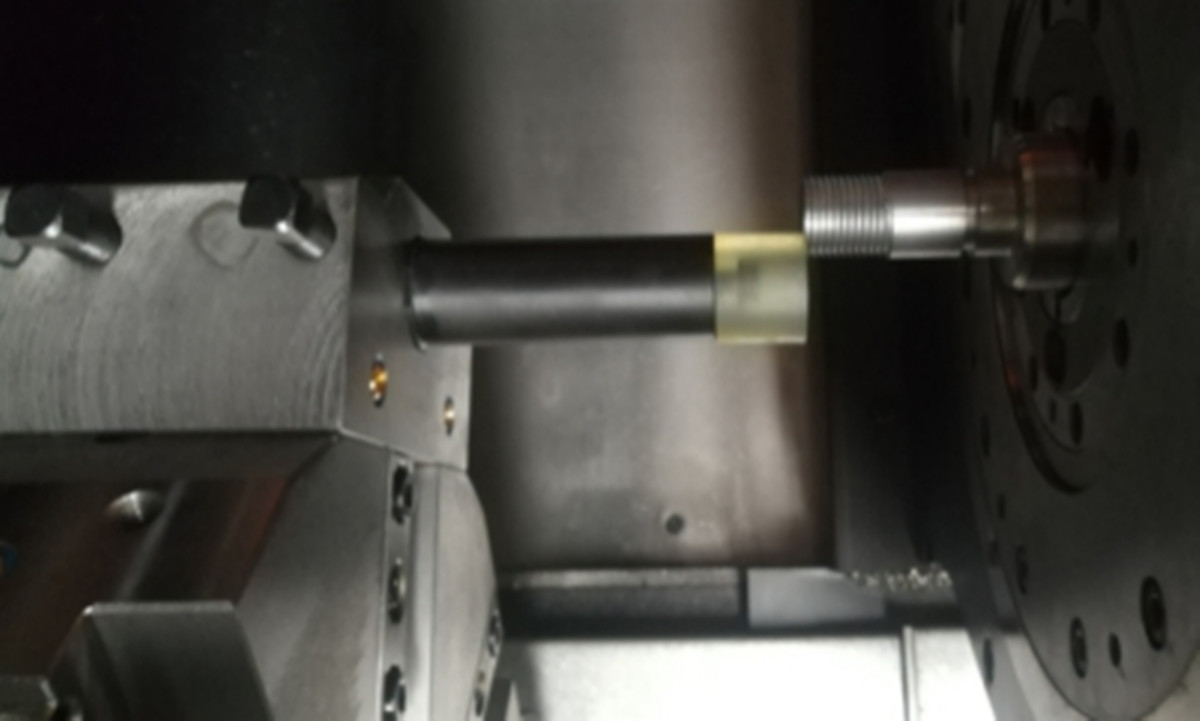 Specification
Item

Name

Unit

Specification

Mark

Process

Range

Max.swing over the bed

mm

Φ550

 

Max.swing over the slide

Φ350

 

Max.clamping diameter

Φ200

 

Processing length

Shaft 1000; Tube: 190-400

 

 

Spindle speed

r/min

1200

 

Headstock

Headstock width

mm

190

 

Spindle clamping specifications

Φ114-195(4 inch-7 inch)

 

Spindle bore

φ200

 

Spindle center to ground height

1150

 

Feed

Travel

X1/X2

150/150

 

Z1/Z2

480/600

 

 

Work forward

X/Z

mm/r

0.001~6

 

Fast forward

X/Z

m/min

16

 

Tool

Drive method

 

Rotary servo, locking hydraulic

 

capacity

station

Diameter of boring bar

 

External tool square size

mm

Diameter of boring bar

 

Diameter of boring bar

Φ50

 

Machine size

mm

4900×1850×1900

 

Machine

weight

Net weight

Kg

6700

 

Gross weight

7700

 
Main configurations
(●:standard; ★:Optional)
No.

Name

Specification

Qty.

Brand

Origin

Mark

1

Control system

FANUC 0i-TF

1Set

FANUC

Beijing

★

2

AC servo motor

X Axis/Z Axis:11Nm

3

Servo motor

18.5/22kW,307Nm

4

Spindle bearing

 

1Set

FAG

Germany

●

5

Servo tool holder

AK36125A-8

2Sets

YTUM

Yantai

●

6

Tool tray accessories

Boring tool holderΦ50;

External tool holder□32×32

2Sets

YTUM

Yantai

★

7

Elastic chuck

With 2 specifications (based on customer needs)

1Set

Self-produced

Yinchuang

★

8

Adjusting claw

With 2 specifications (based on customer needs)

1Set

Self-produced

Yinchuang

★

9

Ball screw

X:4008;Z:4010

2Sets

Hiwin

Taiwan

●

10

Rolling guide

 

2Sets

Hiwin

Taiwan

●

11

Screw bearing

 

2Sets

NSK

Japan

●

12

Centralized lubrication

 

1Set

TTMN

Yongjia

●

13

Cooling pump

 

1Set

Domestic

China

●

14

Hydraulic system

 

1Set

YCCY

Yinchuang

●

15

Electrical components

ABB, Omron, etc.

1Set

Joint venture

China

●

16

Automatic chip remover

 

1Set

Yufeng

Yantai

●

17

Three-color light

 

1Set

Domestic

China

●

18

Random document

 

1Set

Self-produced

Yinchuang

●

19

Random attachment

 

1Set

Self-produced

Yinchuang

●
---
Previous:
CNC Profile Machining Center
---
Send your message to us:
Write your message here and send it to us